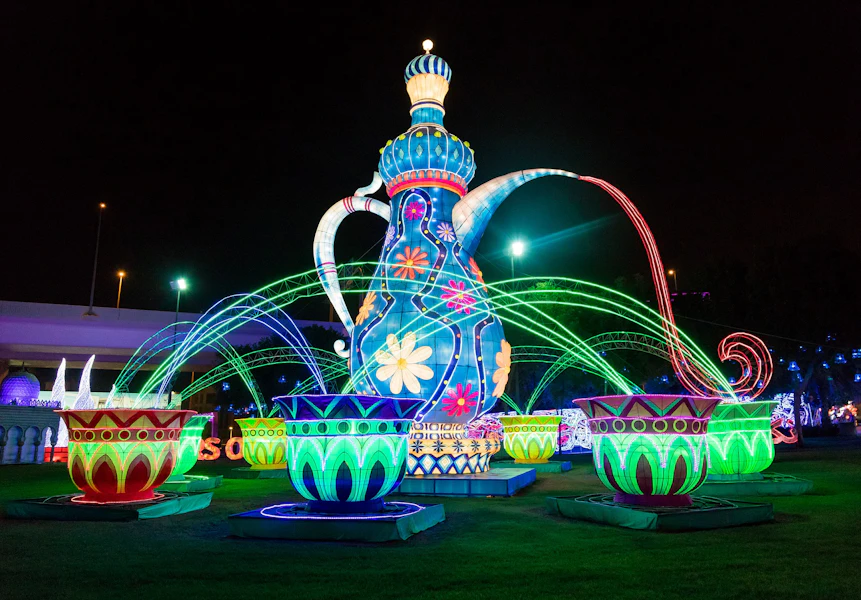 Discover the best of Dubai Garden Glow.
Dubai - a city dotted with grandeur and elegance never ceases to amaze. A radiating jewel, Dubai Garden Glow located in Zabeel Park, resides in the heart of the city. Dubai Glow Garden is a distinctive attraction featuring exhibits from artists all over the world. Entering its 6th season, this unique blend of magic and art is ready to enthrall you with its whimsical charms. Launched in 2015, the majestic Glow Garden sprawls over 40 acres of land. It is an ode to the creativity and skills of people who think out-of-the-box. 
Dubai Garden Glow in a Nutshell
Opening in October of every year, Dubai Garden Glow in Zabeel Park raises the bar of innovation every year. An art gallery by day and a luminescent garden by night, this attraction is a family affair. Explore unique sculptures, simmering jellyfishes swimming in the Zabeel Park, and state-of-the-art technological installations at the Dubai Glow Garden. 
This year the Dubai Garden Glow will be inaugurated on October 11, 2020, and will last till May 2021, with proper social distancing mandates in place. You can visit the Dubai Glow Garden at Zabeel Park Area B and access the attraction through gate numbers 6 & 7. The park timings are 4 PM to 11 PM from Sunday to Friday and 4 PM to 12 AM on Saturdays.
The Dubai Garden Glow features four riveting zones: Ice Park, Dinosaur Park, Art Park, and The Glow Park. These different zones are embellished with music, live shows, rides, and other vibrant performances to keep you happy and entertained. 
Along with these main zones, the Dubai Glow Garden also has other attractions.  There is a Happiness Street that radiates positivity and the Happy Forest is all about connecting with nature. 
This attraction is a hallmark in sustainable development - using biodegradable substances for installations. The Dubai Garden Glow is a strong advocate of reducing the carbon footprint and conserving the environment. 
The nearest Metro Station is World Trade Centre on the Red Line. You can also take a taxi that will drop you exactly at the entry gate. 
Dubai Garden Glow: FAQs
Is Dubai Garden Glow open Now?
The Dubai Garden Glow on Zabeel Park is open for its 6th edition from November 2020 to May 2021. The attraction closes for the summer months.
Is it worth visiting Dubai garden Glow?
This attraction is a unique experience for the young and old. Along with spectacular views and installations, there is a lot to learn about going back to nature and conserving it. The Dubai Garden Glow is a must-visit attraction. You will be transported to a world of magic and fantasy as you step-in this beautiful place. Some of the best engineers from around the world have breathed life into this visionary park. Its brilliance shines through making it one of the most popular attractions in Dubai.
What is the best time to visit Dubai Garden Glow?
The attraction is open to the public only during the winter season. You can visit the 6th season of this attraction from November 2020 to May 2021. Going around dusk around 5:30 PM would give you the best sights and views.
Is Dubai Glow Garden a family attraction?
Yes. This attraction is curated to cater to all age groups. Kids would have a memorable time frolicking from one bright exhibit to another while the elders can marvel at the sheer genius of every installation.
Are eatables allowed inside the park?
No. Eatables inside the park are strictly prohibited.
What experiences are best for kids at Dubai Glow garden?
There is a lot in store for little ones to explore in the Glow Garden. The Dinosaur Park would definitely spark their interest with gigantic replicas of the reptiles. The magic park will definitely catch their interest with intricate illusions and artworks. The Happy Forest with recycled fabrics mimicking wildlife will have them making new furry friends. The Dubai Glow Garden is an entertaining experience that will keep your kid invested and excited.
What kind of clothes should I wear to the Dubai Glow Garden?
The Glow Garden allows entry to people in appropriate and respectable attire.
Are Cameras inside the park allowed?
Yes, you can bring your own camera to capture the Glow Garden's magic.