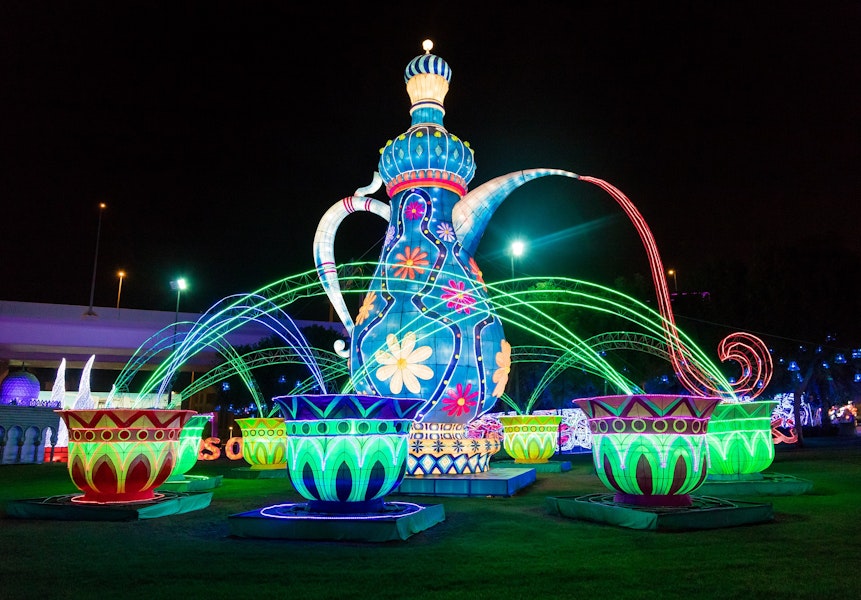 Plan your Perfect Trip to Dubai Garden Glow - Timings, Location & Highlights
Imagination and Innovation know no bounds at the Dubai Garden Glow. One of the most popular attractions of Dubai, the Garden Glow is returning for its sixth season. Based on the theme - Back To Nature, the attraction is much more than just a feast for the eyes. Enjoy and learn as you traverse through this magical land full of wondrous installations and marvelous displays. From Dubai Garden Glow timings to must-visit highlights, here's everything you need to know to plan your visit!
Dubai Garden Glow Timings
Saturday to Thursday you can visit the park between 5:00 PM and 10:30 PM. Dubai Garden Glow timings for Fridays and national holidays are 5:00 PM to 11:00 PM. The bookings counter is open till 9:45 PM.
Duration At Dubai Garden Glow 
Spread over acres in Zabeel Park, you need at least 3 hours to enjoy the attraction. The best time to visit the park is just before dusk to enjoy the lights in their full glory. 
Facilities and Services
You will find a lot of street food kiosks in the park for reasonable dining 
You get instant confirmation on your online bookings and free cancellation is available. 
Dubai Garden Glow has a parking lot if you wish to drive down a car. 
Every surface is sanitized regularly to keep your experience safe. 
Tips To Visit Dubai Garden Glow
 Wear respectable and modest clothes to the Dubai Garden Glow 
 Do not bring outside food, toys, etc inside the park. 
 Masks should be worn at all times and other safety precautions should be observed. 
The entry for children below 3 years is free. 
Pets are not allowed inside the park premises. 
Bring your ID to secure entry to the park. 
Non-smoking rules are to be strictly followed. 
Carry strollers for babies and toddlers as there is a lot of walking inside the park. 
You can carry your cameras inside the park. 
FAQs
Is Dubai Glow Garden Open Now?
Yes. The Dubai Glow Garden is entering its 6th season and is open to visitors from October 2020 to May 2021.
How much is the entrance fee for Dubai Garden Glow?
Dubai Garden Glow's ticket price is 65 AED per person.
What are the Dubai Garden Glow timings?
Dubai Garden Glow timings:
The park is open for guests from 5:00 PM to 10:30 PM on Sunday through Thursday. It is open till 11:00 PM on Fridays and national holidays. 
What is the best time to visit Dubai Garden Glow?
You should visit the garden at dusk to witness the sunset and the bedazzling lighting.
What are the COVID-19 safety measures taken at Dubai Garden Glow?
Dubai Garden Glow is putting in dedicated effort to ensure a safe experience for everyone. Masks are mandatory for every guest inside the park. They provide contactless tickets and sanitize every surface and vehicle regularly. The staff is instructed to wear protective gear at all times and they are given temperature checks often.
Can I bring outside food to the park?
No, outside food is prohibited. The park has many food kiosks and diners, you can pick the cuisine you like.
Is photography allowed inside the park?
Yes, you can carry your cameras inside to capture the views of the park.
There are a variety of transport modes you can use to reach the park. A taxi would take you straight to Gate 6 and 7 which permit entry. You can also take a bus to reach the attraction. The closest metro station to the park is Al Jafiliya Station on the Red Line. Driving down to the park will be hassle-free too as there is plenty of parking space available.